Celebrate the warmer months with this tropical dessert recipe from the HostCo menu. We've served it both as a regular dessert and a canape sized dessert at our events by changing the size of the glasses we use to plate. Depending on what glassware you have available, a stemless wine glass will make the perfect size for the full size dessert and a shot glass works well for canape size.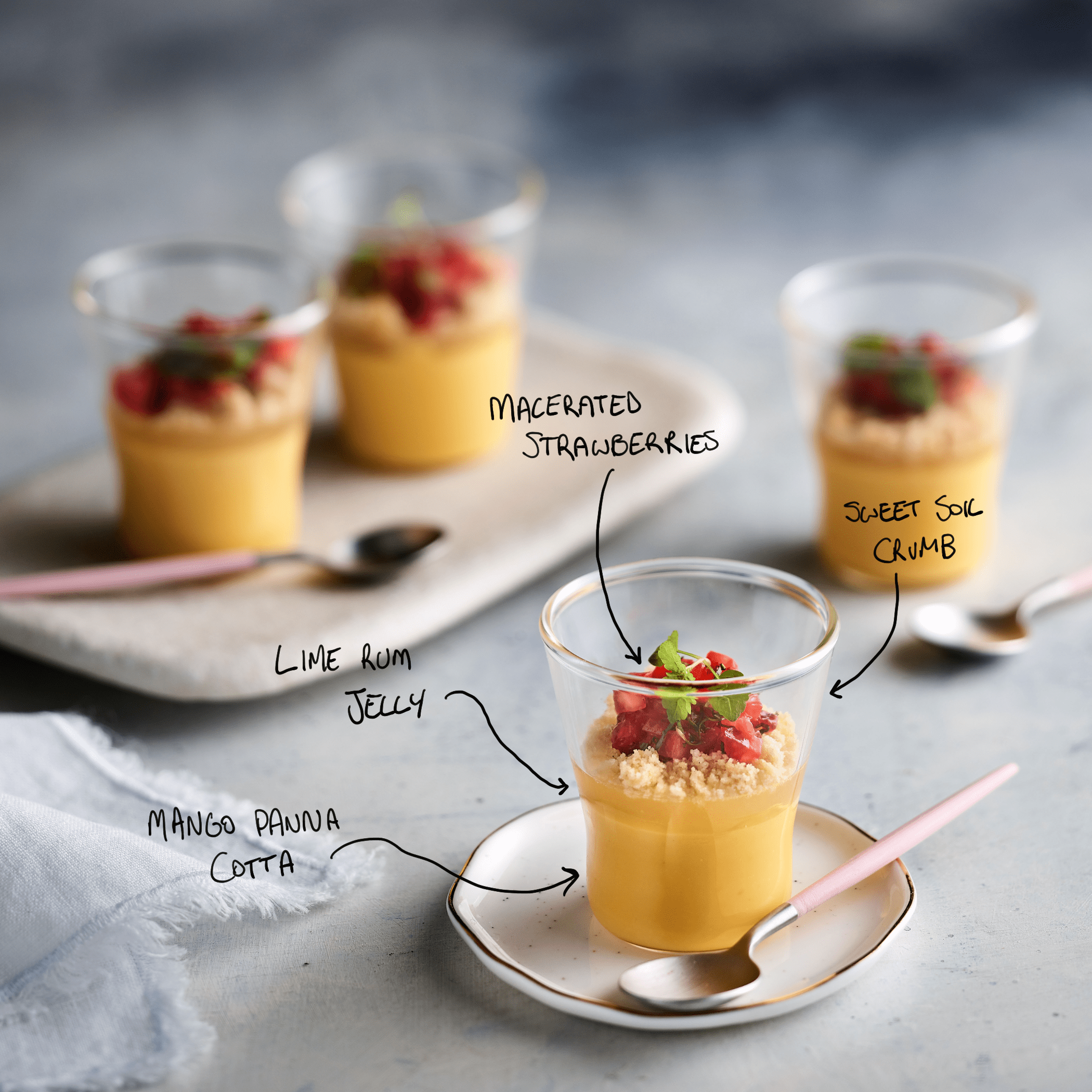 Mango Panna Cotta, lime rum jelly, shortbread, strawberry, mint (gf)
Serves 10
Ingredients
Mango Panna Cotta
330ml Double Cream
330ml Mango Puree
330ml Milk
90g Sugar
3 Titanium Gelatine Sheets
Lime Rum Jelly
125ml Rum
100ml Lime Juice
175ml Water
5 Titanium Gelatine Sheets
Macerated Strawberries
250g Strawberries
1tsp Icing Sugar
Sweet Soil Crumb
150g Sugar
150g Almond Meal
75g Potato Flour
5-7g Salt
65g Melted Butter
Chef Tip: Gelatine needs two things to work, time and temperature. So making this dessert a day in advance is key!
Instructions
Mango Panna Cotta
Soak gelatine sheets in cold water.

Chef Tip:

Gelatine comes in different shapes and forms, (Titanium & Gold sheets or Powdered). If Titanium sheets aren't available, it can be substituted with the other forms.

1 Titanium Sheet = 3 Gold Sheets = 7gm Powdered. So, for this recipe it would be (15 Gold Sheets or 35gm Powdered Gelatine)

Mix Cream, sugar and mango puree together in a pot and bring up to a warm temperature. Mix thoroughly until all sugar is dissolved. Once warm, take off the heat.

Chef Tip:

If mango puree isn't available, tinned mango cheeks can be used as a substitute.

Drain gelatine, and dissolve into the mixture. Once completely dissolved, now add the cold milk. (Adding the milk cold regulates the temperature in the pot so the cream and mango puree doesn't split)

Pour into glasses and set in the fridge.
Lime Rum Jelly
Soak Gelatine Sheets in cold water

Warm up water and dissolve the gelatine sheets in it. Then add the rum and lime into the mix, once slightly cooled.

Chef Tip:

To keep citrus tasting like its natural taste, keep it away from heat.

Slowly pour the jelly on top of the set panna cotta, make sure to only add it on when the jelly mixture is room temperature or cooler.
Macerated Strawberries
Dice strawberries and lightly dust it with icing sugar.
Sweet Soil Crumb
Mix all ingredients together and bake in an oven at 160c for 15 mins, don't use fan bake as it will cause the crumb to fly off the baking sheet. Keep mixing the crumb every 5 mins until golden brown.
Plating
To show off the layers of the dish, set the dessert in a clear glass.

When placing the crumb, only fill the middle of the glass to see the contrast of colours from bottom to top.

We used lemon balm in this platting, but the finishing touch can be changed to edible flowers for a more summer look.