We had the pleasure of working with Sarah & Tom to create their dream wedding in Sydney. With a last minute ceremony location change it was a wonderful day filled with family, laughter, dancing and all-round good times.
Ceremony Venue: MacLaurin Hall | Reception Venue: Great Hall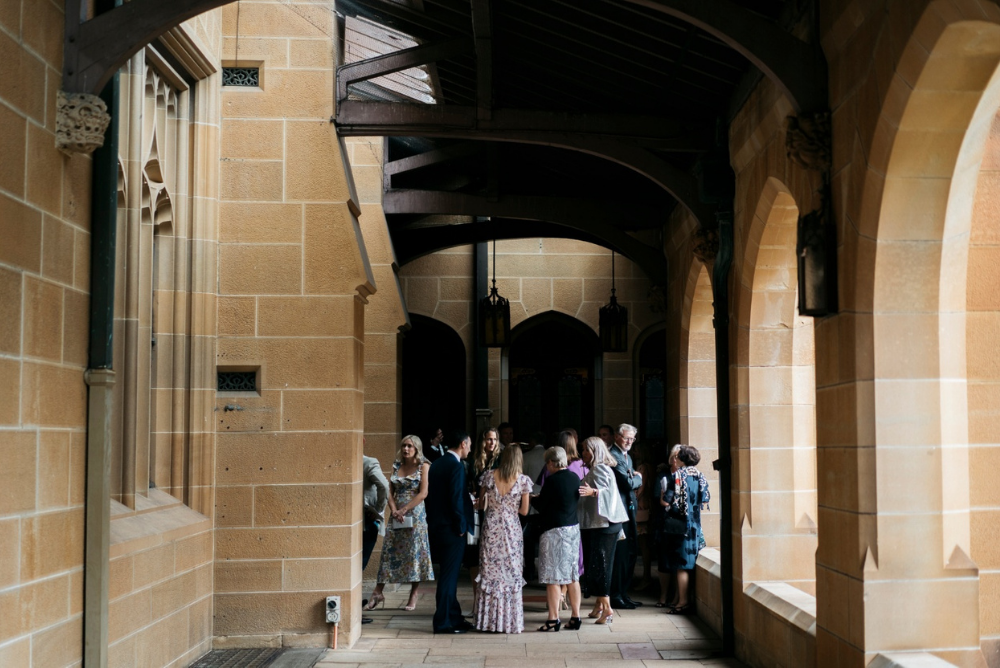 How and when did you meet? Tell us about your first date & proposal too!
We met while working at a Rugby club in Sydney. He was playing there and I was working in administration. It wasn't love at first sight... But after many years working beside each other we started up a friendship and soon spent more time together which eventually led to us dating. Our first proper date was at The Boathouse at Blackwattle Bay in Glebe, and Tom proposed just around the corner from there, at a spot we regularly had picnics. It was so special, shared with Tom's daughter Winnie who had helped plan the whole thing.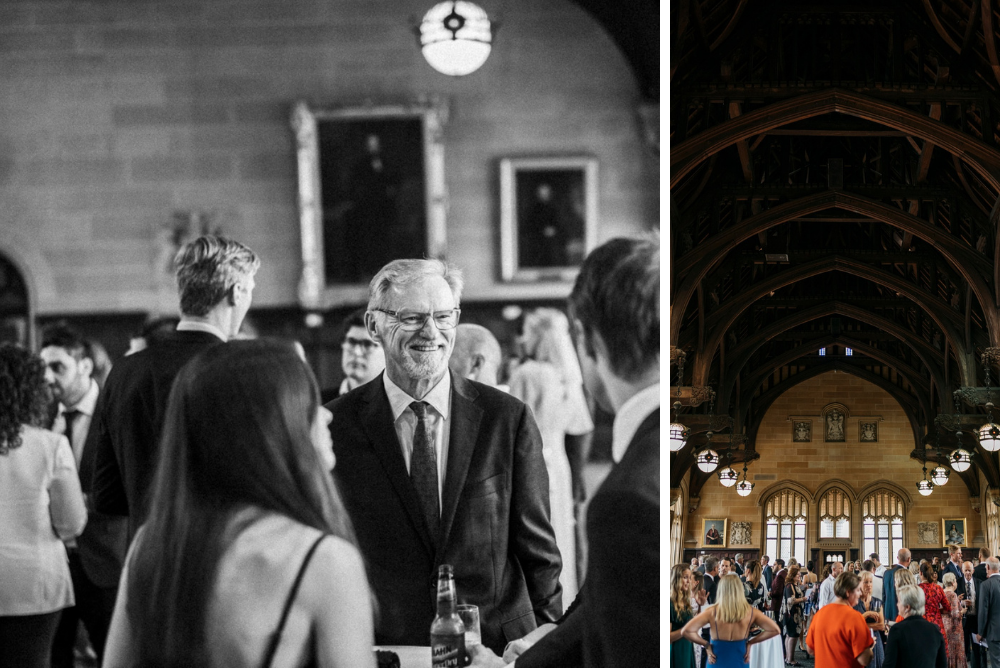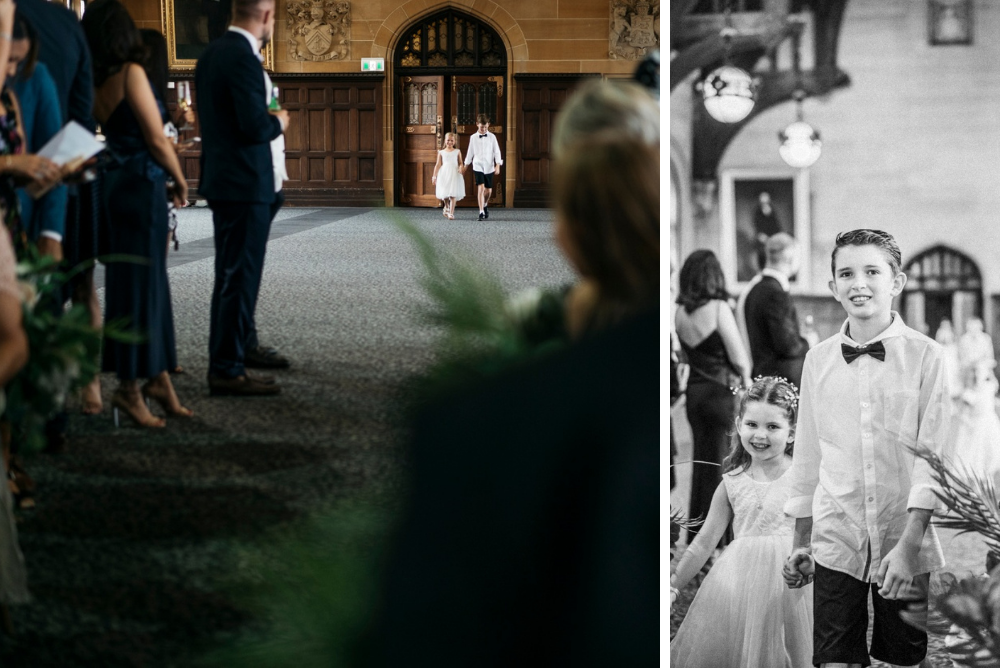 Tell us a little about yourselves, what you do, what you love, what is unique about you and your relationship…
We both work in sport (Tom working in Professional Sport and Sarah as a PDHPE teacher), played sport all our lives, and met at a sporting club. As such, sport makes up a very important part of our relationship and something we both love. However, other than that we really are opposites - Sarah is organised, a people pleaser and all about the attention to detail... While Tom is the creative dreamer, chaotic and doesn't let anyone stand in his way of achieving his goals.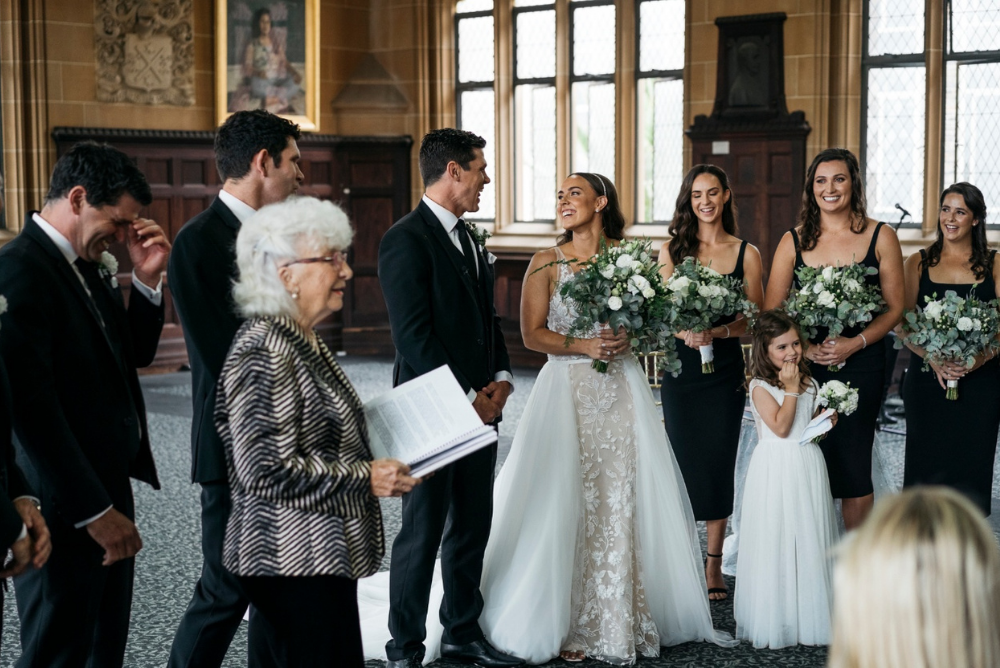 Tell us about your special day, what was the important aspect to you when you were planning your wedding & your favourite details?
Our day was magical. We only spent about 5 months planning our wedding - we made the big decisions quite easily (an amazing venue, incredible band, outstanding wedding event stylist and catering team) but it was the small things that were most important to us. We wanted the ceremony to be so special and involve Tom's daughter (we gave her a little locket before we exchanged rings) and we wanted our guests to feel looked after and relaxed (with drinks on arrival, fans and little tissue packets to use during the ceremony and a midnight snack goodie bag to take away at the end of the night). Sarah's mum also made sure the women's bathroom was beautifully decorated and stocked with all the essentials (mints, hair ties, floss, lip balm, perfume, safety pins etc.) which was a massive hit with the ladies!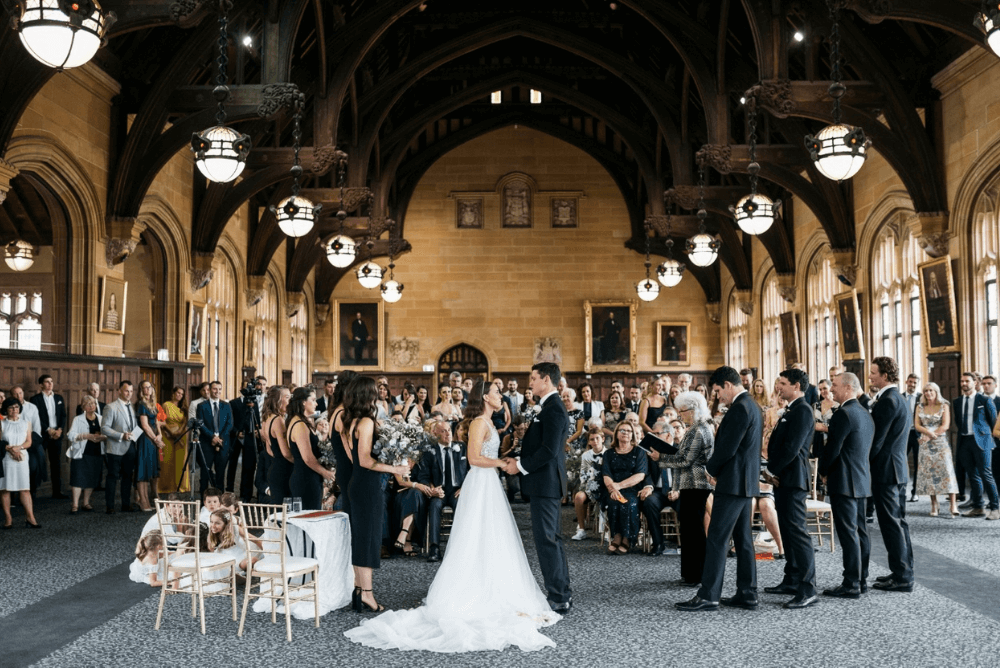 How and why did you choose HostCo and what was your favourite thing about us?
Firstly, Sydney University was always a really special part of both of our lives, so we knew we wanted to get married there. However, we had also heard amazing things about HostCo and the service they provided. So the fact they knew the Great Hall venue so well and were there on campus at the venue for all our meetings was perfect. They went above and beyond in helping us execute our dream day. Our favourite thing about using HostCo was that we did not have to worry about anything on the night. They did absolutely everything we asked of them - everything little detail. We could not have asked for a better person than Tran to help us through it all. Amazing!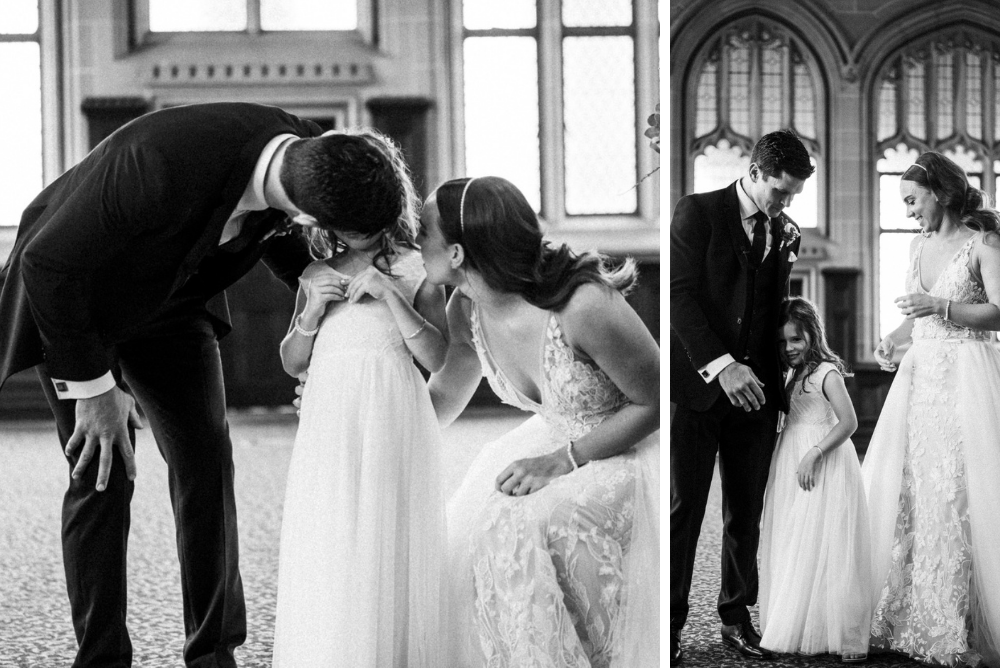 What was your absolute favourite moment of the day? Does your partner have a different favourite?
We have the same favourite moment... The moment Sarah walked down the aisle and locked eyes with Tom will always be the best moment of the whole day. We had to change our ceremony venue last minute due to rain; however, Tran helped us secure MacLaurin Hall as a back up (and what a phenomenal back up venue it was!). Having the room filled with all of our favourite people and us being able to share this amazing moment with them meant everything to us. With The White Tree band playing Can't Help Falling in Love as Sarah walked down the aisle... Perfection!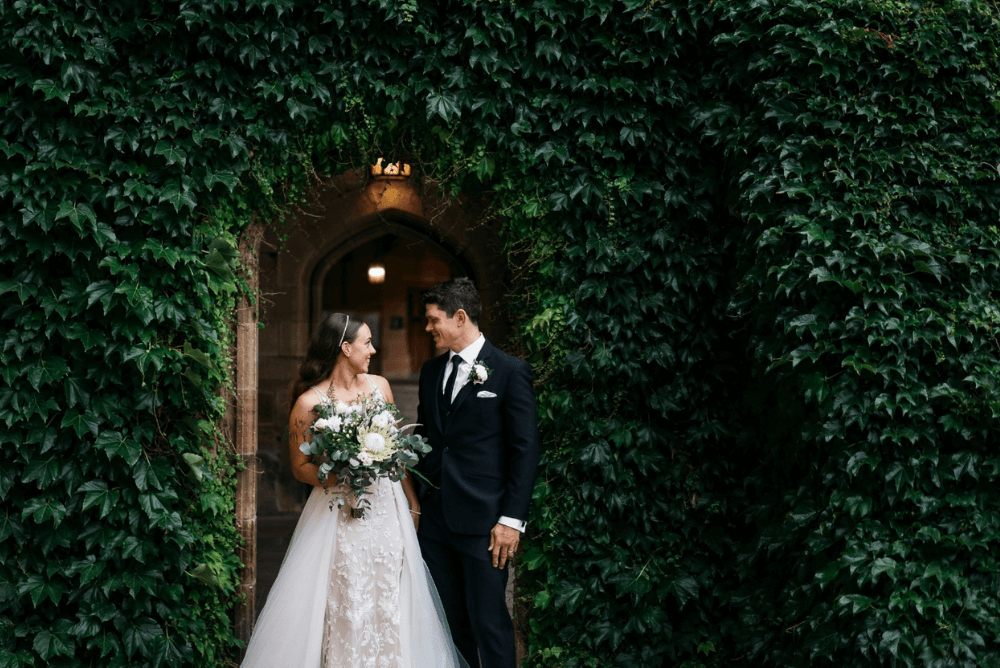 What was your biggest surprise on your wedding day?
Sarah's sister, Jessica, works at Soiree Cakes. Her and her incredible boss Raidayna, gifted us our wedding cake. We had a short consultation with them about what we wanted, but the cake was mainly a surprise... And an amazing surprise at that! Delicate translucent flowers and stunning layering - a true masterpiece!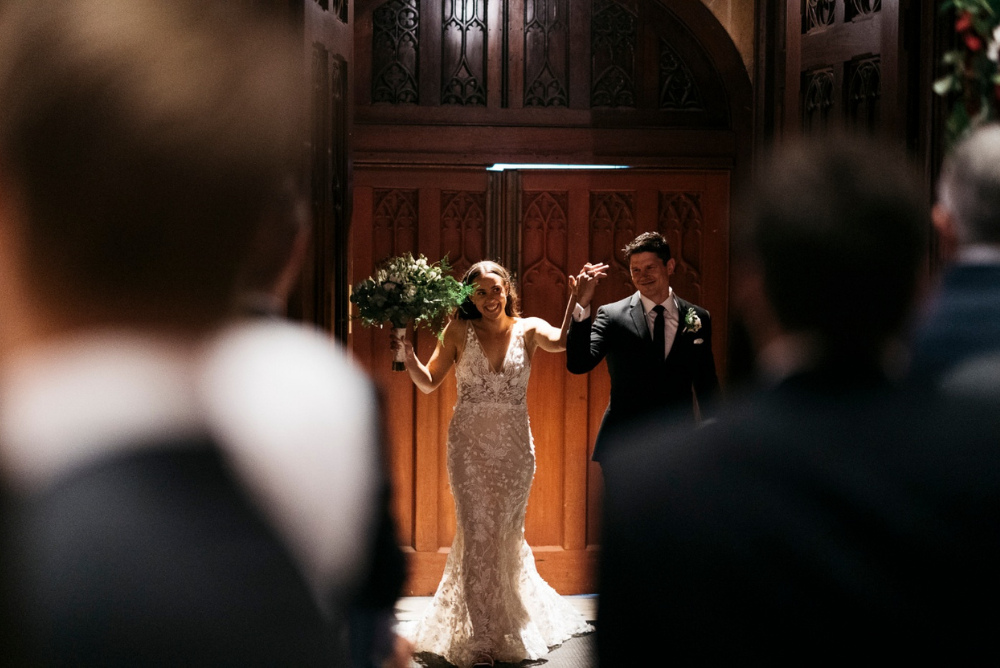 What's something you wish you knew before your wedding day?
That despite your best efforts... Speeches will ALWAYS go over. We do not regret any of our speeches, we loved them all and have watched our wedding reception video many times already. However, it did mean that dancing time was reduced a bit. I guess we wish we knew our guests wanted to keep dancing and we would have organised an afters venue!!! But that is really getting picky...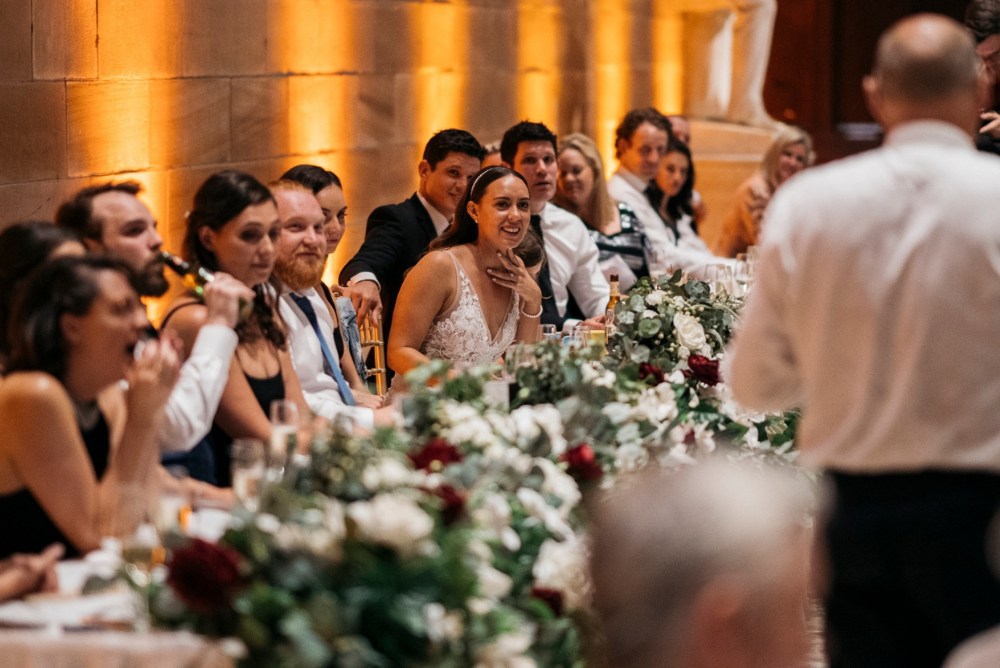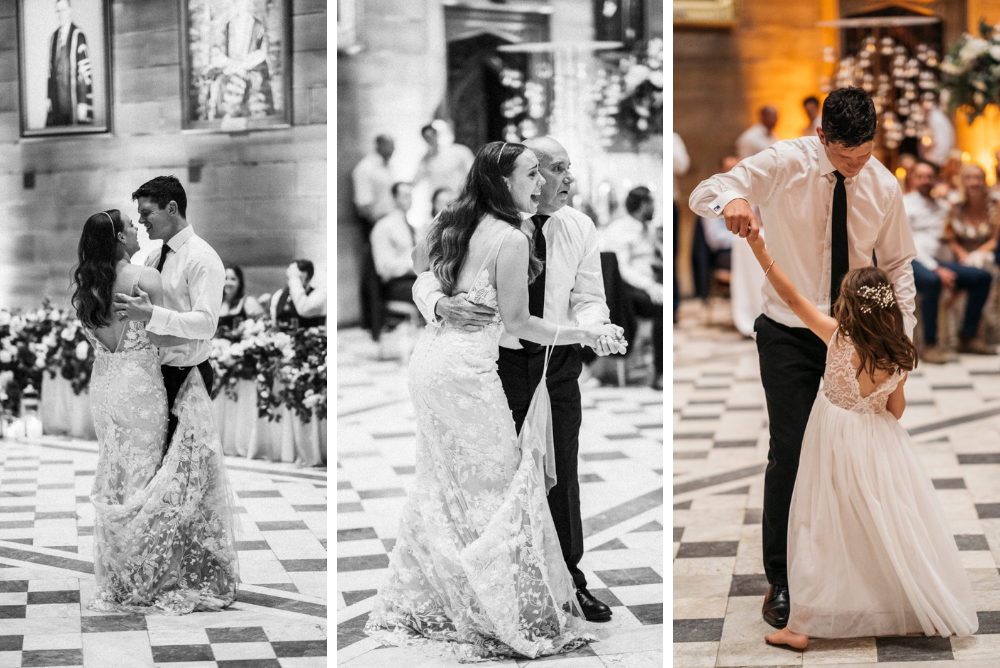 What advice would you give to future couples for both their wedding day and their lives after the wedding together?
Biggest wedding advice is to have a good team behind you. Whether you are having a catering team/stylist team or not, you need to make sure you have people there on the day so you don't have to worry about a thing. Tran and Anna Wang's team were those people for us. Everything we asked for was done, so we could just sit back and enjoy our night. We also allocated a few small tasks to friends and family too. They want you to have the best night too, so you just need to ask!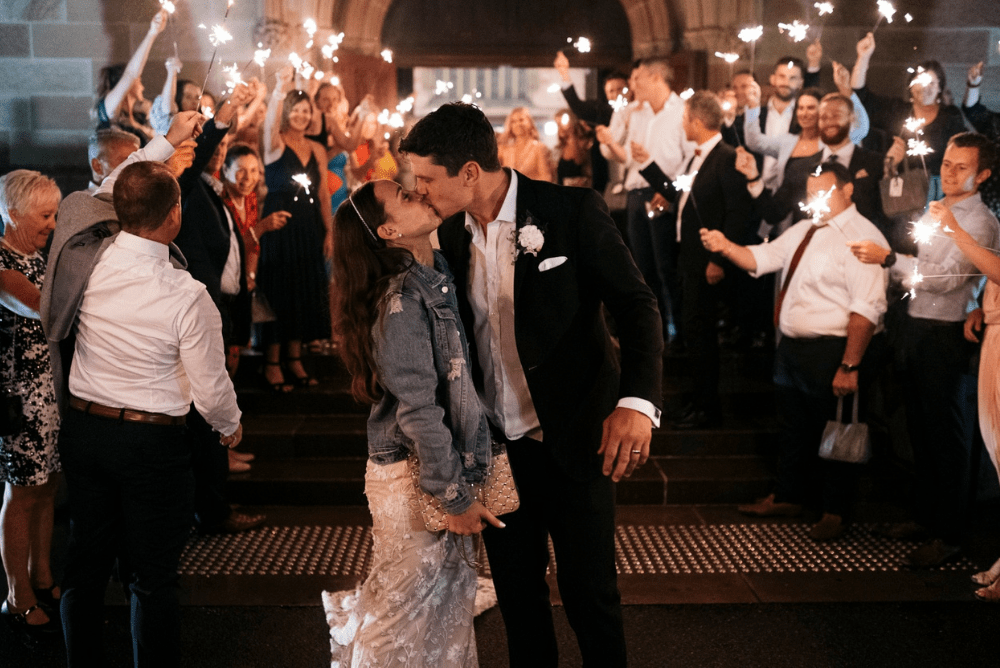 ---
The Suppliers
Photographer & Videographer: White Tree
Floral & Design: Anna Wang Stylist
Cake: Soiree Cakes