We had the pleasure of working with Tran & Luke to create their dream outdoor wedding in Sydney. Tran, is one of our very own, you've likely spoken or emailed with her when you've been planning your own event. Just before event restrictions changed due to COVID-19 and weddings were limited to 5 guests, Tran and Luke got married, celebrating with their fairytale wedding ceremony and reception.
Ceremony Venue: Refectory | Reception Venue: Quadrangle Lawns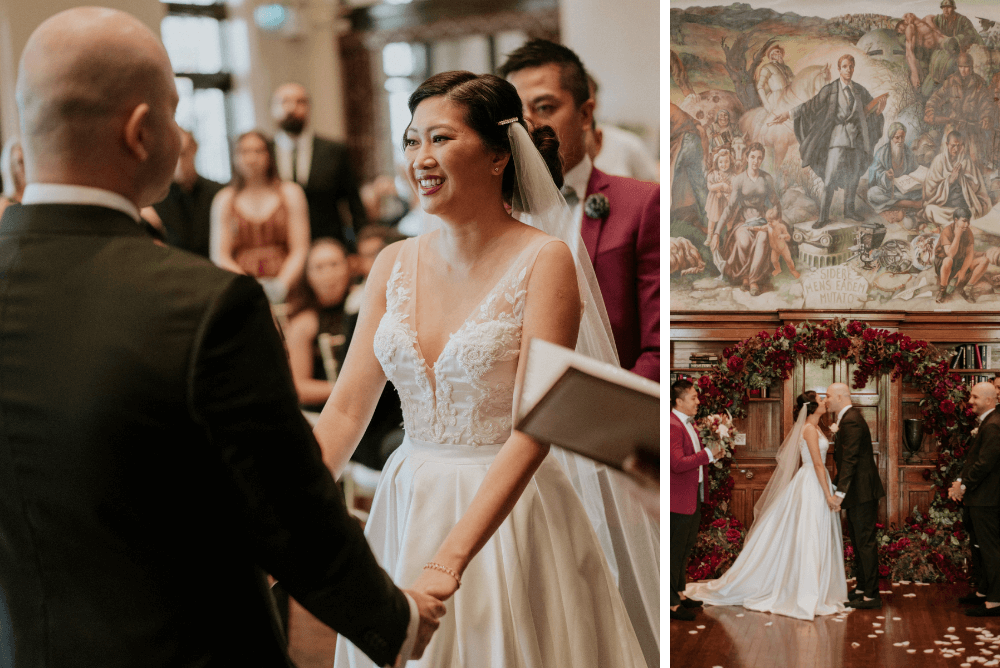 How and when did you meet? Tell us about your first date & proposal too!
We know of each other since primary school through to high school. We were friends because Luke's brother is married to one of my close friends. Six years ago Luke decided to ask for my number while I was drinking at our friend's 30th birthday party, he messaged me 3 months after getting my number to apologise on his friends behalf since they were giving me grief for not drinking with them. After many texts and calls, Luke finally asked me out on a date. He knew I love great food and restaurants, so he researched and made a reservation, picking me up for our first date, he was great company and he made me believe in chivalry. Luke's nickname is mute for a reason, I was surprised how much we were able to communicate.
After a couple years together, one day Luke had issues with his phone, while I tried to fix it, I found images of engagement rings, he saw me find those images and confessed, he was excited to show me the pink diamonds, since it was my favourite colour. There was no ring at the time, I would never know what the design was nor when he would propose. Our anniversary came around and there was no proposal, we went to Singapore a year after, no proposal. By then I had forgotten about the proposal. His brother and family decided to go to Queenstown in May, we decided to join them. Luke organised for us to go to Onsen Hot Pool, one of the nights we were there since he couldn't book during the day. That evening while I was waiting for Luke in the waiting room. I was ungrateful, massaging my girlfriends in our chat that Luke organised the Onsen Hot Pool however I couldn't get the full experience since it was in the evening and cold. Little did I know, Luke pretended to go to the bathroom and was actually checking up on his proposal set up. The staff took me to the private room, as the door opened I saw Luke standing and waiting for me, down on one knee asking for my hand in marriage whilst I was laughing in his face!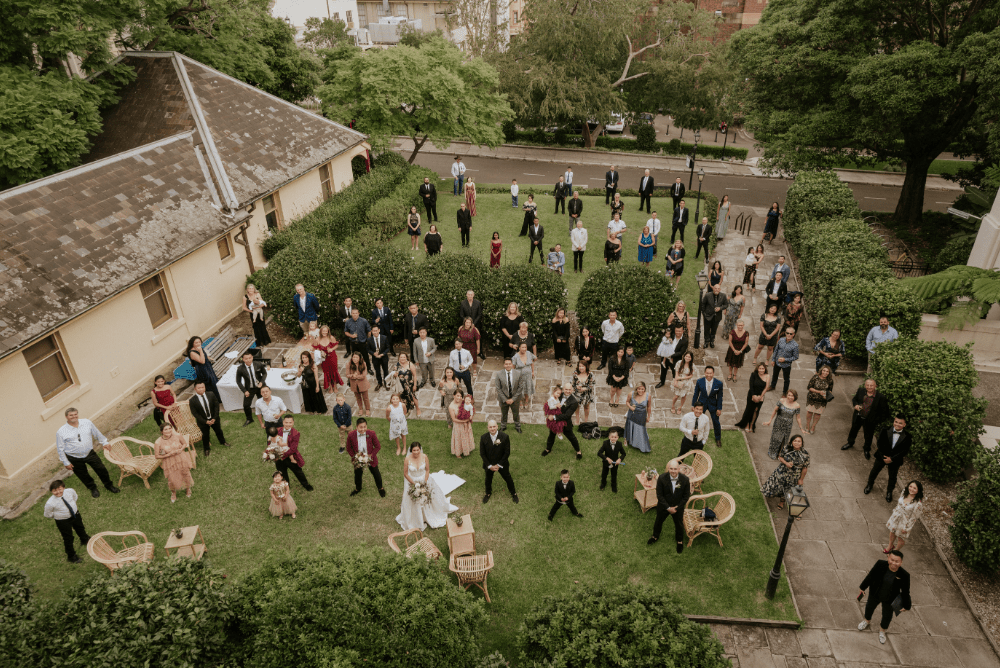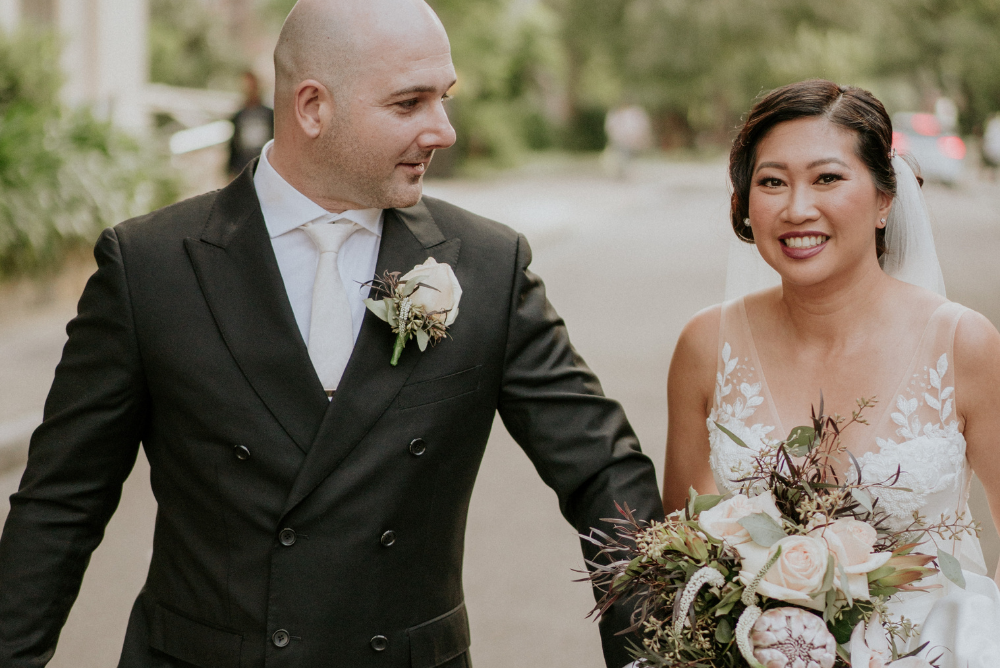 Tell us a little about yourselves, what you do, what you love, what is unique about you and your relationship…
I work in events and I love to socialise with people, I enjoy good quality food and wines whereas Luke; a panel beater, is shy, prefers one on one conversation, he did not see the value of going to fine dining. Who would've thought we are so compatible. We both enjoy each other's company, so much that Luke now enjoys going out to dinner and that we usually plan our travels around food.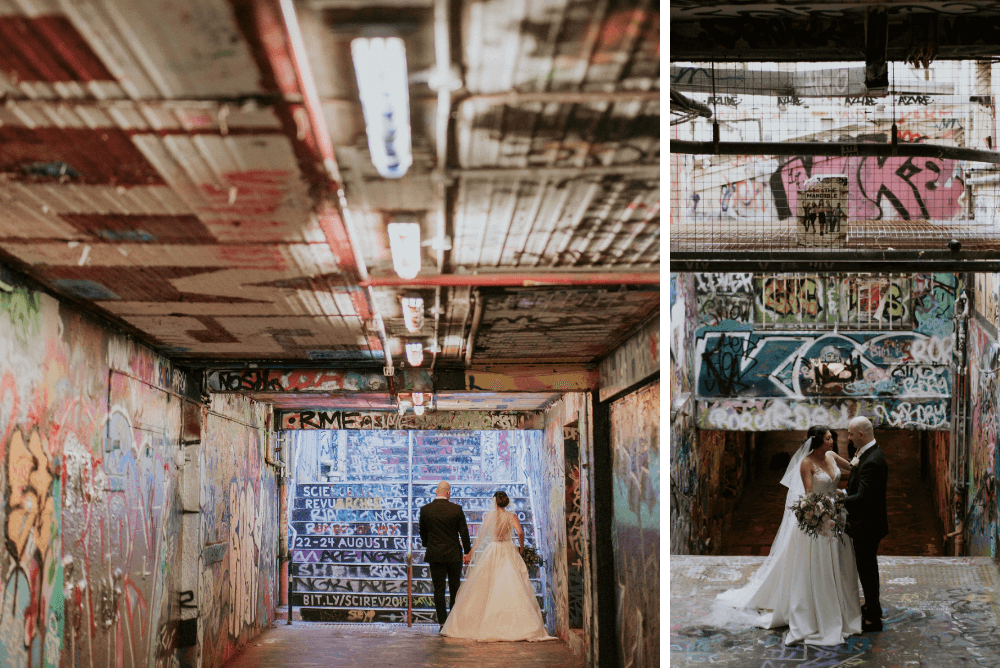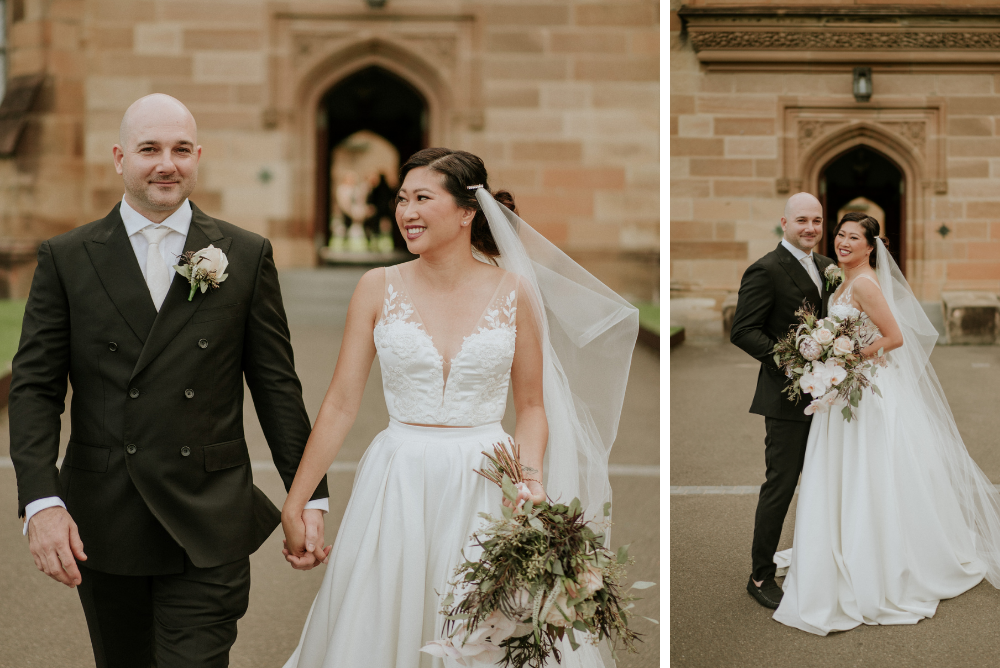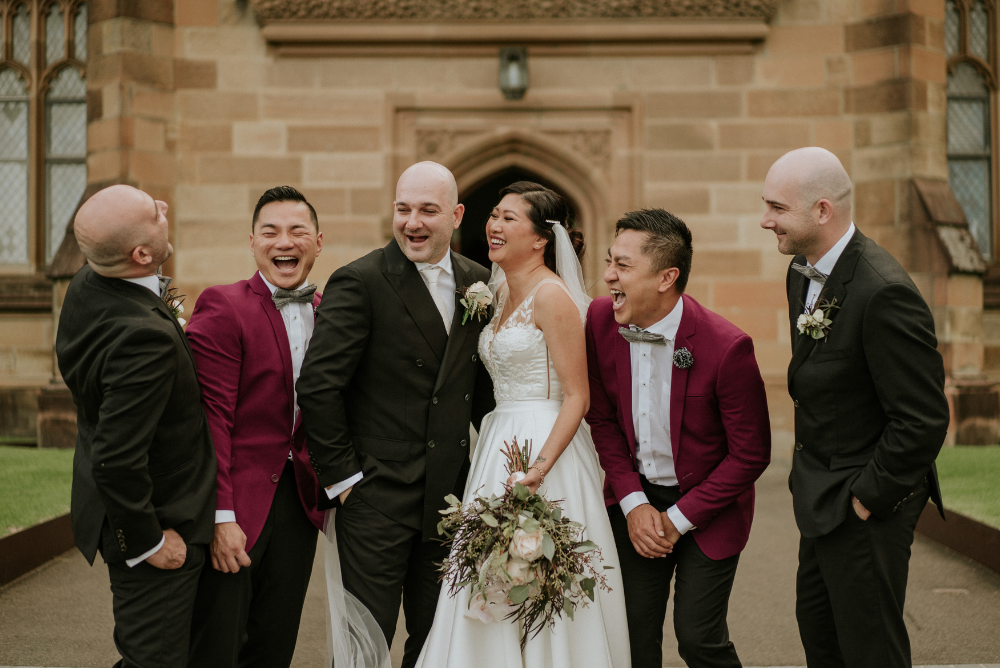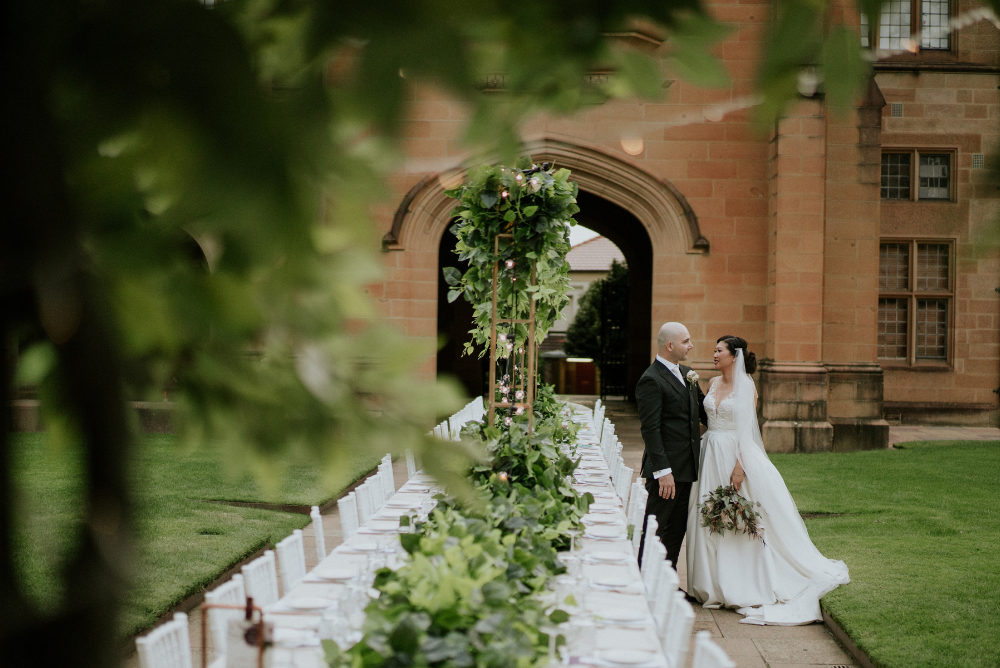 Tell us about your special day, what was the important aspect to you when you were planning your wedding & your favourite details?
Having an outdoor wedding reception was the one important aspect for our wedding and the planning was based on having an outdoor reception. However in Sydney and our guest numbers it wasn't easy or affordable until Luke asked if it was a possibility that I would consider the Quadrangle Lawns.
Honestly every detail was our favourite, since everything we chose had our personality or meaning to both us. From having an illustrator to draw us as a pop comic for our invite then linking to our cake where each panel had our journey together.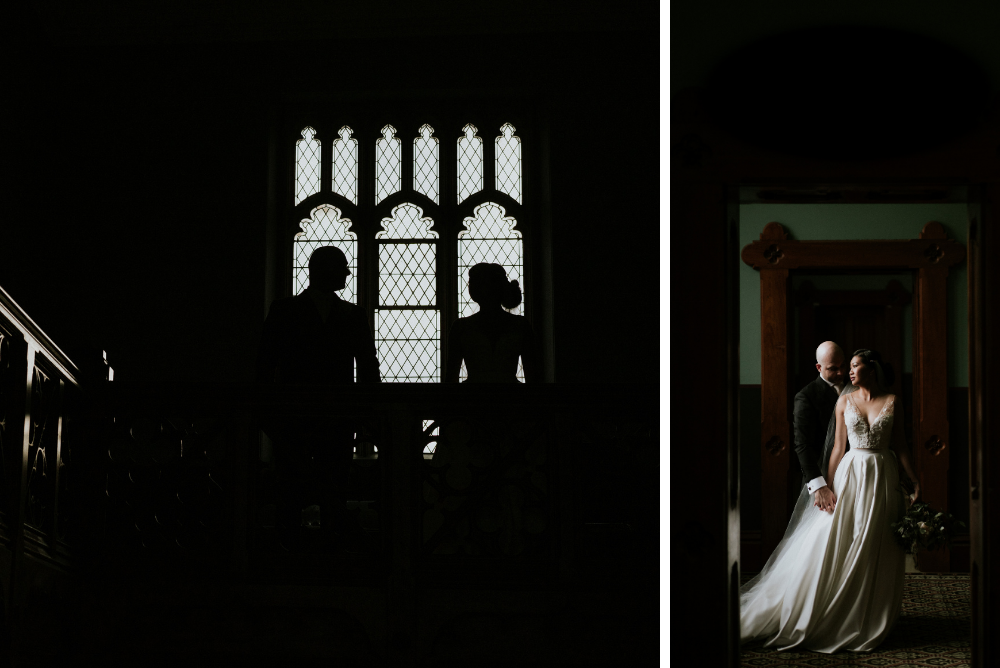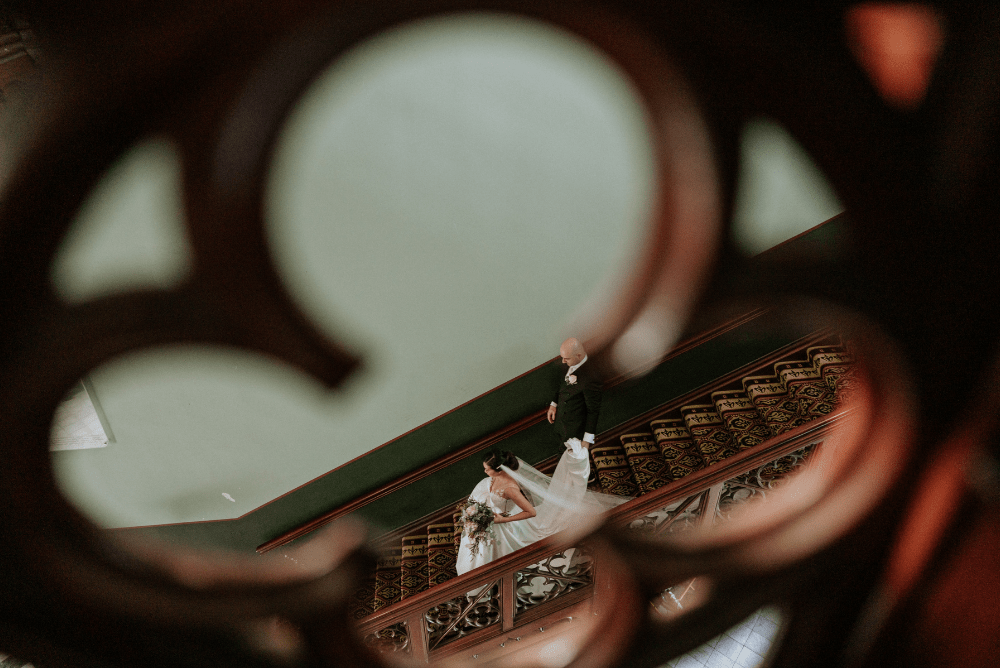 How and why did you choose HostCo and what was your favourite thing about us?
As I work for HostCo, it was a no brainer for Luke and I not to go with HostCo - especially since we were getting married at the University of Sydney. We could trust the rest of the HostCo team would execute and deliver the service and food we are proud of.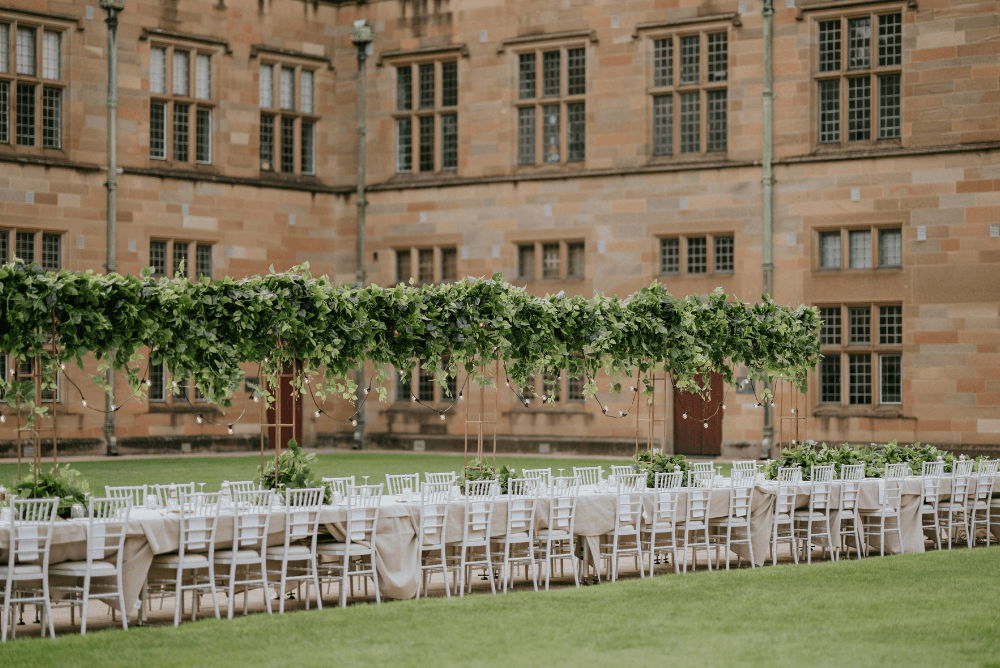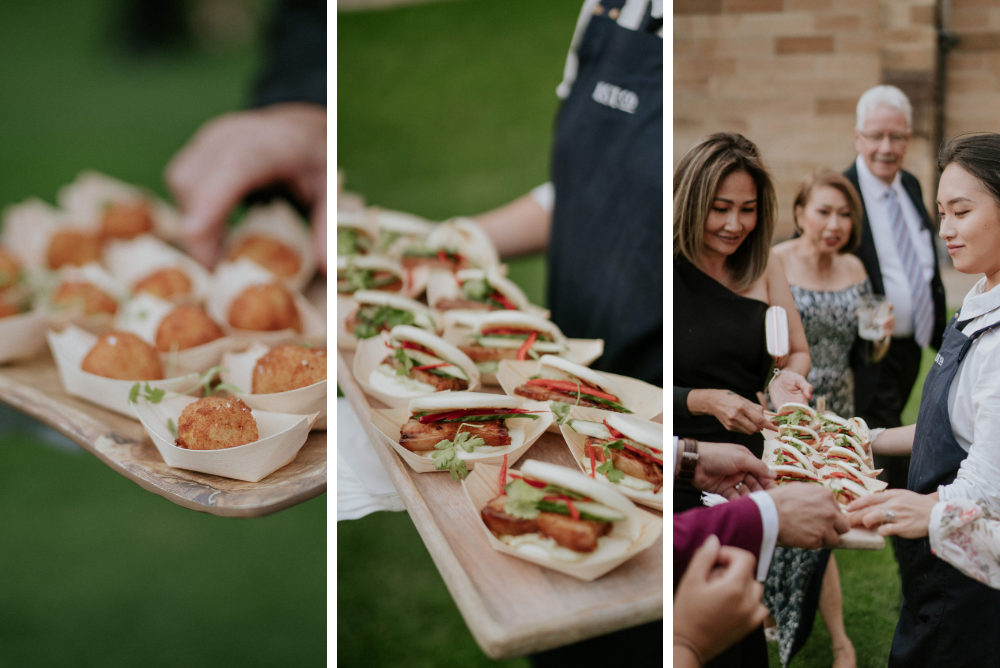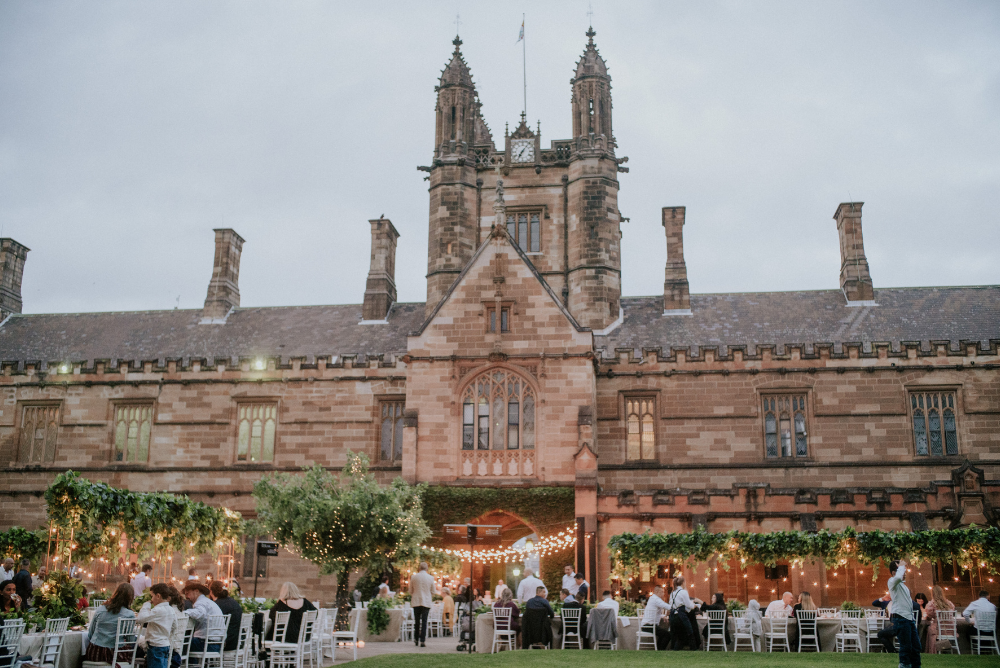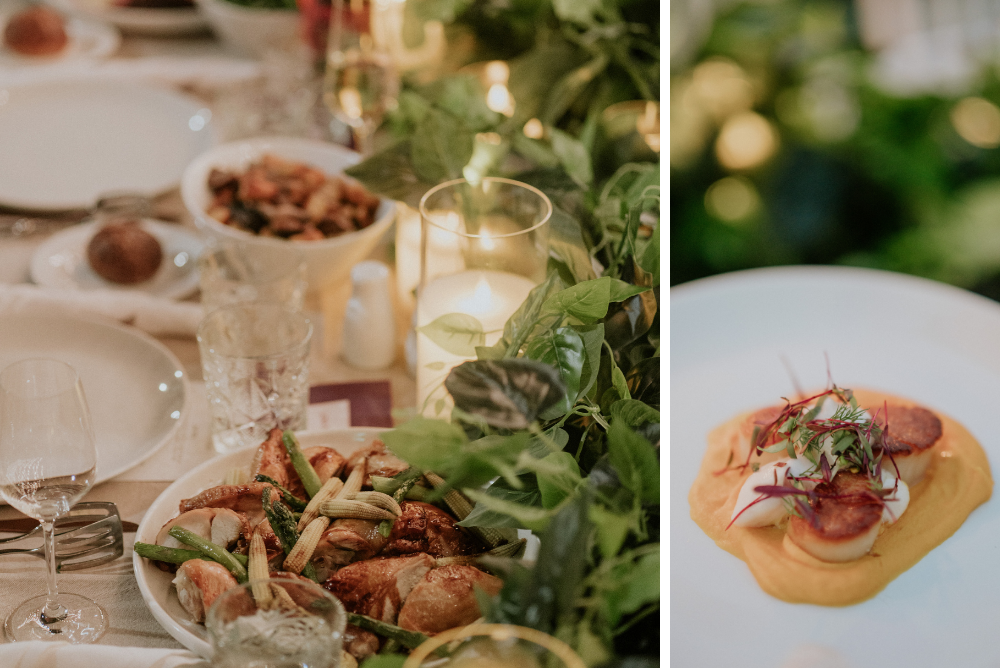 What was your absolute favourite moment of the day? Does your partner have a different favourite?
Our favourite moment was when the ceremony commenced. Luke watching me walk down the aisle and seeing me in my dress for the first time. I loved seeing Luke's nervous face and when Luke's nephew, Jeremy gave his speech during the reception.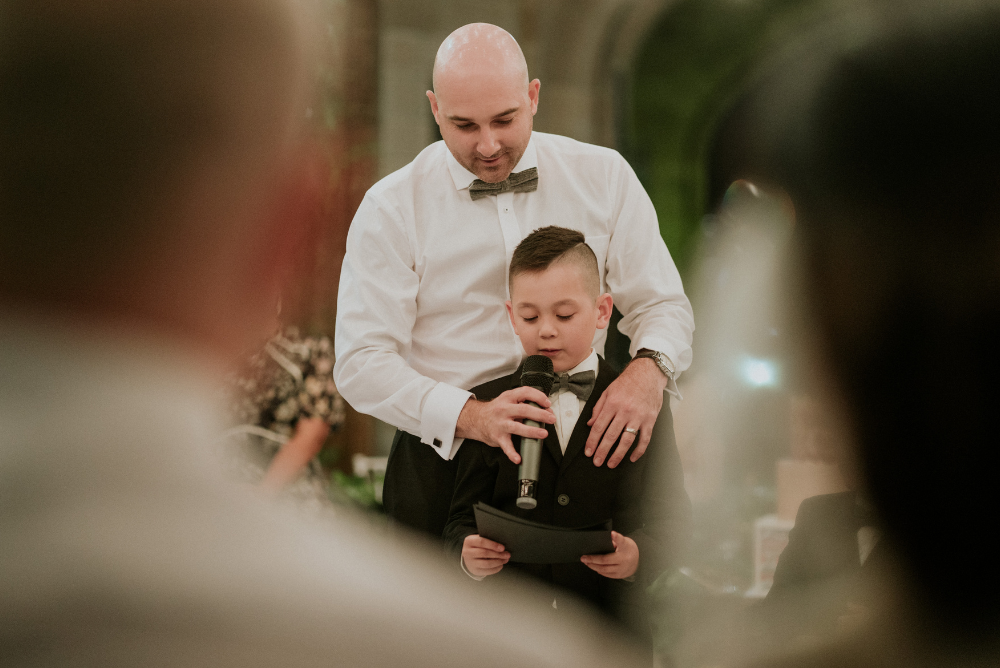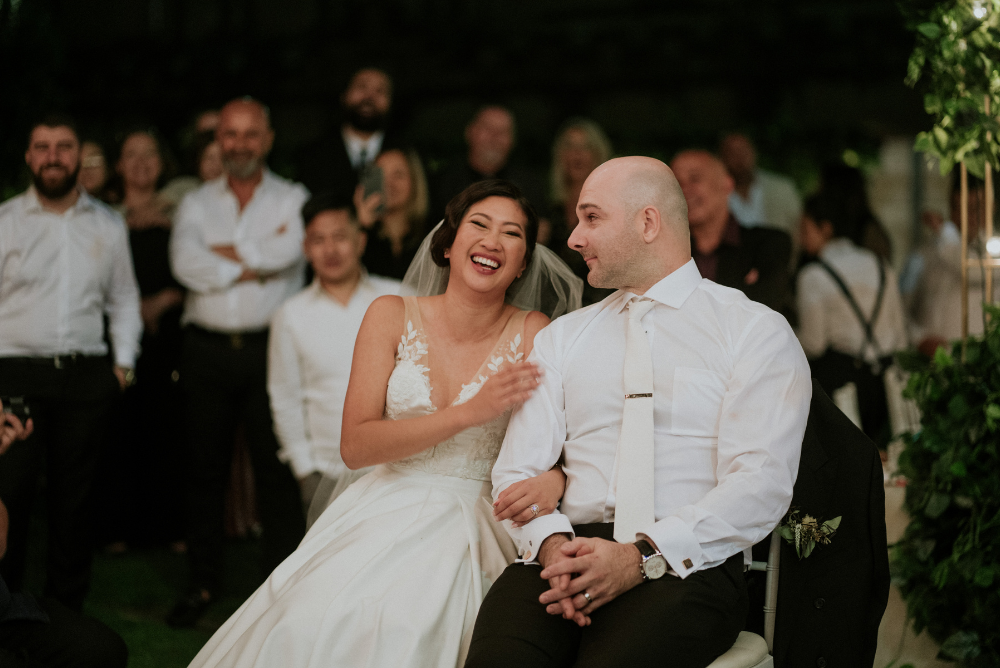 What was your biggest surprise on your wedding day?
For us, we were surprised we were able to have our wedding. Due to the pandemic, the week of our wedding was a rollercoaster, we were lucky since our wedding was always outdoors, we were able to hold our wedding.
Beside the pandemic, for Luke it was my wedding dress; since he didn't know what it looked like or what to expect. For me, my vision of our wedding turned out better than I could have imagined, or planned in the many spreadsheets and presentations that I had created!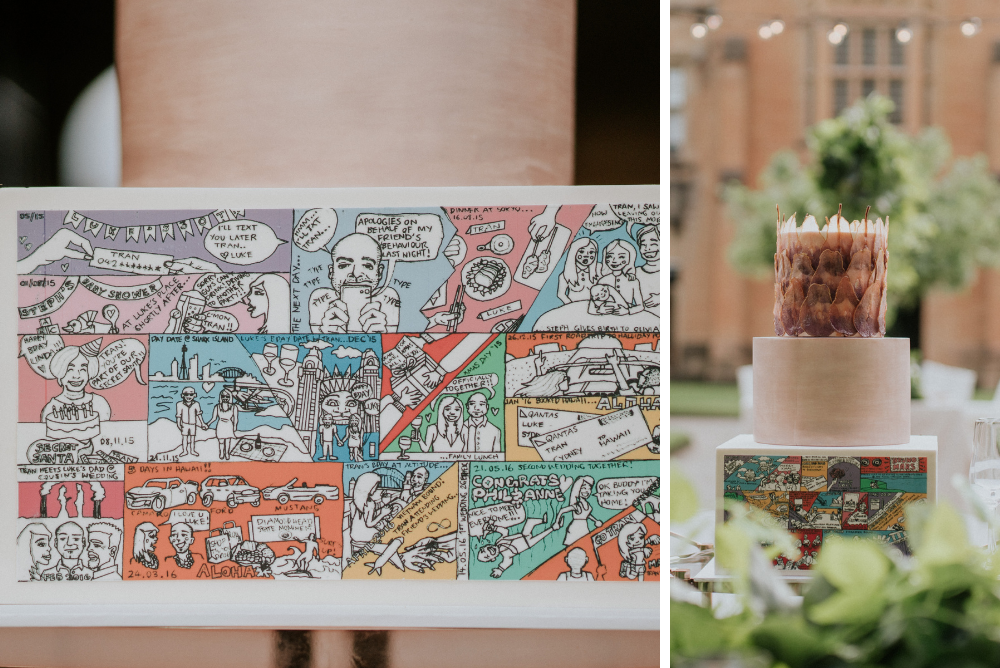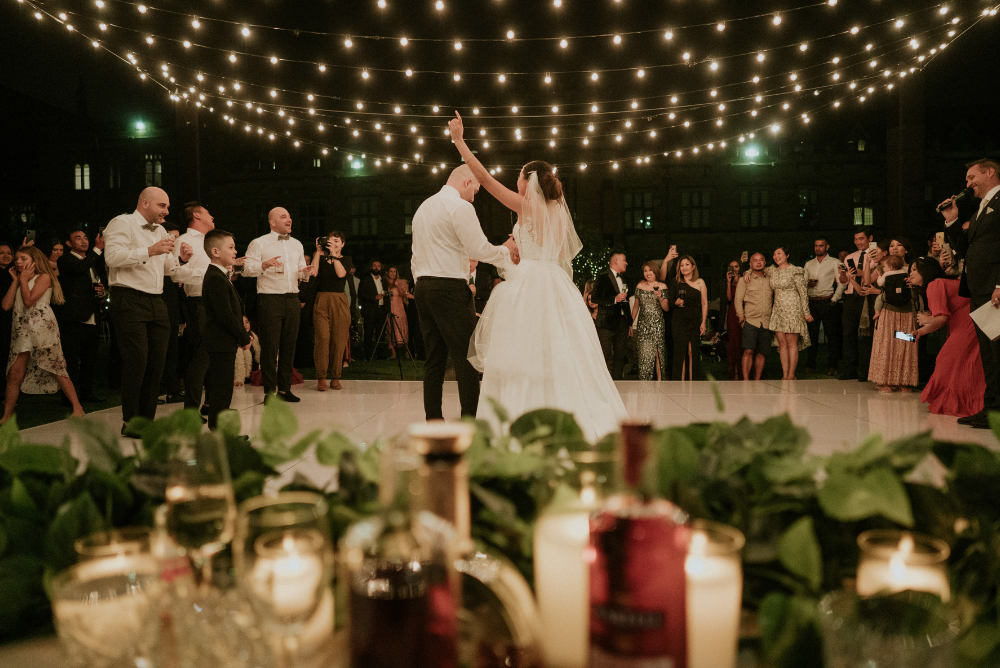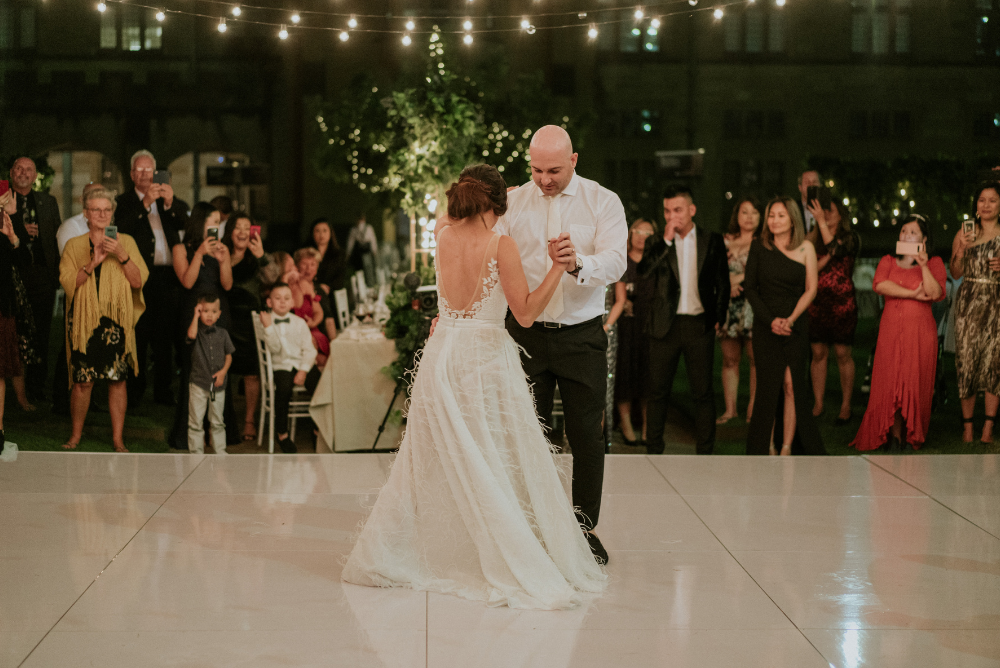 What's something you wish you knew before your wedding day?
Nothing, for Luke he had it easy since I knew what we needed to do.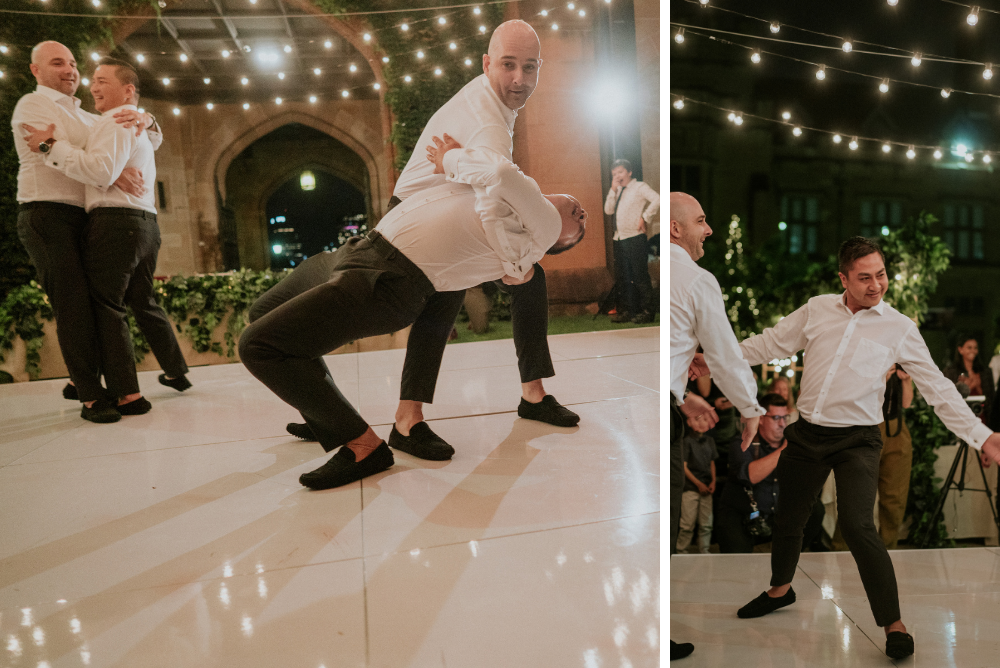 What advice would you give to future couples for both their wedding day and their lives after the wedding together?
Remember the purpose of a wedding! To celebrate with family and friends you want there. The more things you want for your wedding the more things for you to stress about and as a planner, you can plan as much as you can but there is always something out of everyone's control and won't go to plan. Don't think about it and enjoy your day, as it is the start of your new beginning as husband and wife.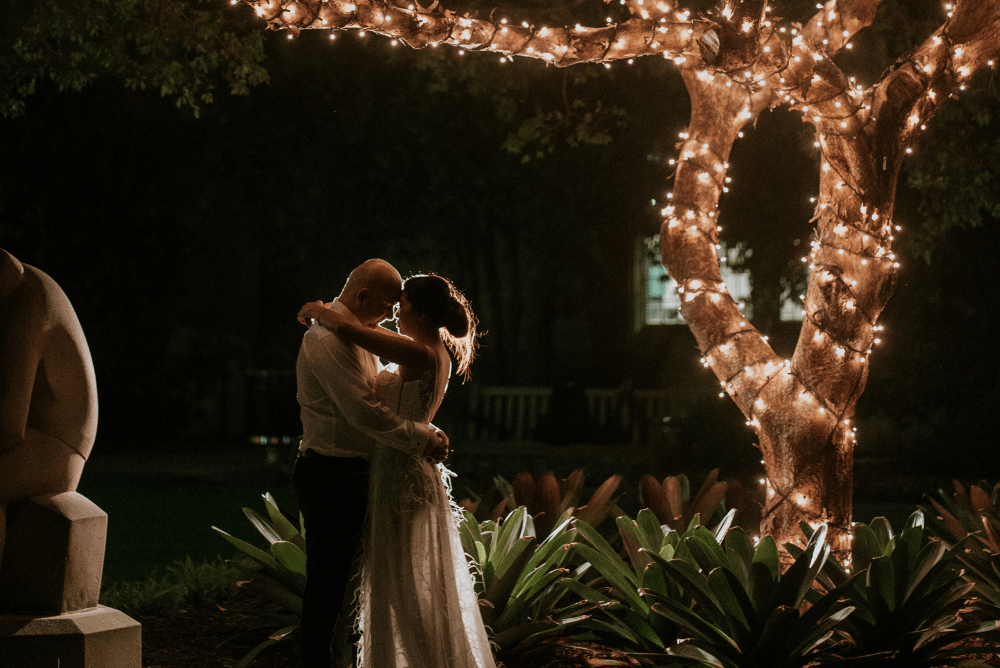 ---
The Suppliers
Photographer: James Day Weddings
Videographer: Cloudherd Wedding Film
Florist: Anna Wang
Celebrant & MC: Sydney Celebrant Glenn
String Trio: Classic Strings
DJ: Fave Events
Gelato: Gelato Cart People
Equipment Hire: Patti's Hire
Chair Hire: Bargain Party Hire