This perfectly balanced Passionfruit Curd with spiced soil, lemon myrtle jelly and a fun beetroot sponge it's a dish that celebrates vibrant flavours with fresh pops of colour and is always a hit at our events. Using the recipe below enjoy trying something new with your family and friends, or get in touch with the HostCo team and ask for it to feature on your next event menu.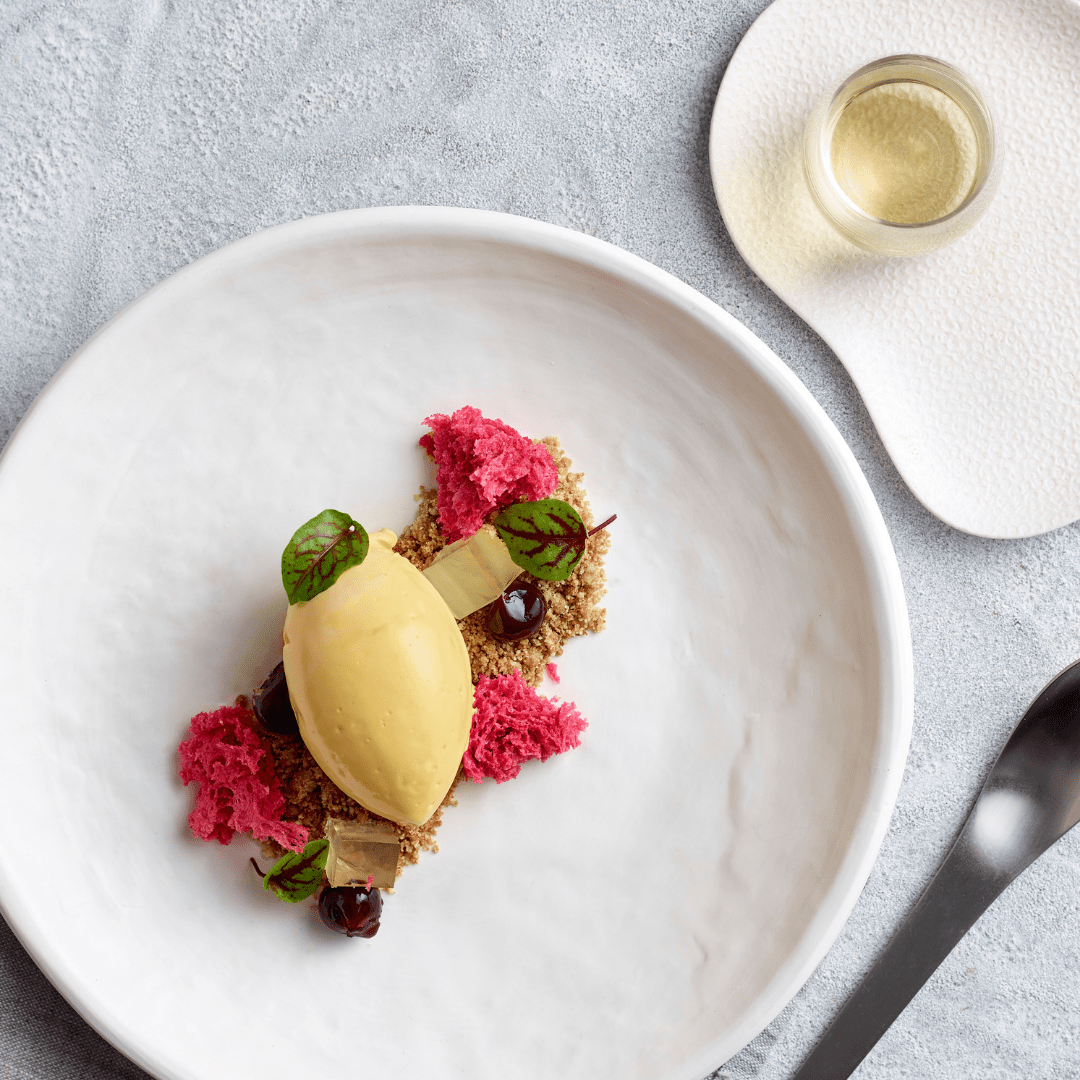 Passionfruit Curd, Spiced Soil, Lemon Myrtle Jelly & Beetroot Sponge
Serves 6
Ingredients
Passionfruit Curd
300ml Passionfruit Juice

330g Sugar

160g Cold Diced Butter

4 Whole Eggs

4 Egg Yolks

1 Titanium Gelatine Sheet
Spiced Soil
150g Sugar

150g Almond Meal

75g Plain Flour

5g Salt

65g Melted Butter

1g Cinnamon

1g Nutmeg
Lemon Myrtle Jelly
200ml White Wine

200ml Water

2 Tbsp Lemon Myrtle Powder

3 Titanium Gelatine Sheets
Beetroot Sponge
150g Egg White

80g Almond Meal

80g Sugar

30g Flour

60g Egg Yolk

30ml Beetroot Juice
Method
Passionfruit Curd
Pre-soak gelatine

Set up bain-marie, mix everything besides butter, continuously stir to prevent lumps. The process will roughly take 20-25mins to cook. Final product will have a thick mayonnaise consistency.

With the heat off, add drained gelatine into the curd mix.

Whisk in cold diced butter into the curd mix to emulsify and further cool down. Take out of the bowl to set (this would roughly take 6 hours)
Spiced Soil
Mix all ingredients together, and bake in a shallow tray at 160c for 20 minutes or until golden brown.
Lemon Myrtle Jelly
Pre-soak gelatine sheets.

Reduce white wine into half. Turn the heat off, then add lemon myrtle to infuse for at least 2 hours. Add water and then strain.

Bring the lemon myrtle solution up to temperature, and add the gelatine sheets to melt, then set in a container with a minimum of 10mm height.

Leave in the fridge to set for a minimum of 3 hours.
Beetroot Sponge
Mix all ingredients together very well, p

lace in a syphon cream charger, charge with 3 cream charges for best results. Let the mix set for 30 mins.

In a well-oiled plastic or silicon mould. Spray the mix half way through the mould (this allows for the mix to rise when it is cooked). Depending on the strength of the microwave, cook the mix for 30 seconds, or (until it is cooked). A way to check if the mix is cooked is by puncturing the middle of the cake with a stick, if the stick has wet batter on the sides, keep cooking.

Take cakes out of the moulds whilst hot.