You can't beat the classics! This perfectly cooked Chicken Breast with a velvety carrot puree and vibrant braised cabbage plus a fresh salsa verde is always a crowd pleaser with our event attendees. Using the recipe below enjoy our Chicken Breast with your family and friends, or get in touch with the HostCo team and ask for it to feature on your next event menu.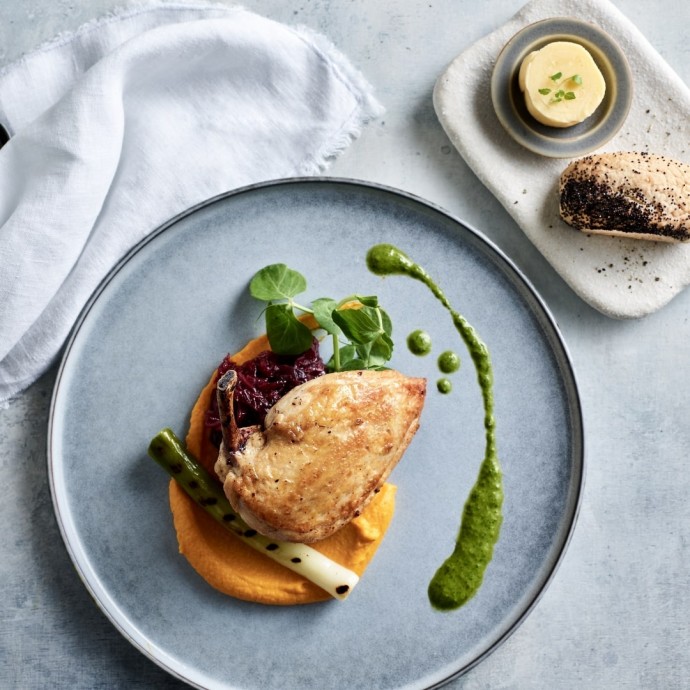 Chicken Breast, carrot puree, red cabbage, salsa verde
Serves 4
Ingredients
4 Chicken Supreme (French Trimmed)
Carrot Puree
500g Carrots

2 Brown Onions

100g Cold Butter, Diced

200ml Cream
Braised Red Cabbage
¼ Red Cabbage

1 Red Onion

250ml Orange Juice

250ml Apple Juice

250ml Port Wine

1 Cinnamon Quill

1 Star Anise

1 Bay Leaf
Salsa Verde
1 Bunch Parsley

1 Clove Garlic

1 tsp Capers

1 tsp Dijon Mustard

1-2 Lemons, juiced

150ml Pomace or Olive Oil

Ice Cubes
Method:
Chicken Supreme
Preheat your oven - fan forced 170C, normal conventional oven 190C

Heavily season chicken breast with salt and pepper before sealing.

Seal chicken breast on a hot pan until golden brown, skin side first. Flip when desired colour is reached.

Chef tip:

besides using a nonstick pan, another step that can ensure your chicken doesn't stick to the bottom you can heat the pan separately, and add cold oil in.

Finish cooking the chicken breast in the oven until it reaches an internal temperature of at least 74C.

To finish add a knob of butter to the pan, and base the chicken.
Carrot Puree
Cut carrots and onion with uniform size, then lightly saute in a pot. Keep stirring until the onions are translucent. Then add a splash of water and the cream to continue cooking the carrots till soft.

Chef tip: cooking onions till clear or "translucent" is a visual cue that it has broken down and releases its natural sugars. This in turn adds a mellow sweetness that compliments the carrots very well, giving depth of flavour to the puree.
When carrots are soft, add everything in a food processor, then process in the fastest setting. Slowly add cold cubes of butter into the puree to finish. Chef tip: Don't over cook your carrots! Cooking root vegetables too long leads them being "waterlogged", this makes vegetables lose flavour. Best way to check root vegetables are cooked is to pierce them "through and through".
Braised Red Cabbage
Sauté, onions and red cabbage, till glossy and semi wilted. Deglaze with the port, then add the rest of the juices, (add hot water to the pot to cover).

Chef tip:

Fishing is hard work! Keep the hard aromats in a bouquet so it can be easily taken out at the end.

Cook until cabbage is soft (40-45min).

Once cooked, reserve the leftover cooking liquid and reduce till sauce consistency then return to the cabbage mix.

Before serving add cold butter and mix, to give a glossy finish.
Salsa Verde
Place all ingredients in a food processor except for oil and ice. Pulse, then add a couple of ice cubes to loosen the mix.

Add oil steadily while the food processor is on a lower setting, then add seasoning to your liking.

Chef tip: adding oil steadily while the processor is mixing "emulsifies" the mix, this ensures your salsa verde doesn't split.
Plating
Start with a generous spoonful of the carrot puree on the base of your plate, then smooth it out to create a swoop on which you will add the braised cabbage on top of the narrowest section of your swoop.
Place the Chicken Breast on top of this so it's resting against the cabbage to give the dish additional height.
Followed by a drizzle of the salsa verde on the side and additional garnishes such as grilled spring onion if you wish.