We love a fresh fish entree! It's a great way to start your meal and is always a hit with our event attendees. Using the recipe below enjoy our Tuna Tartare at your next get-together with family and friends, or get in touch with the HostCo team and ask for it to feature on your next event menu.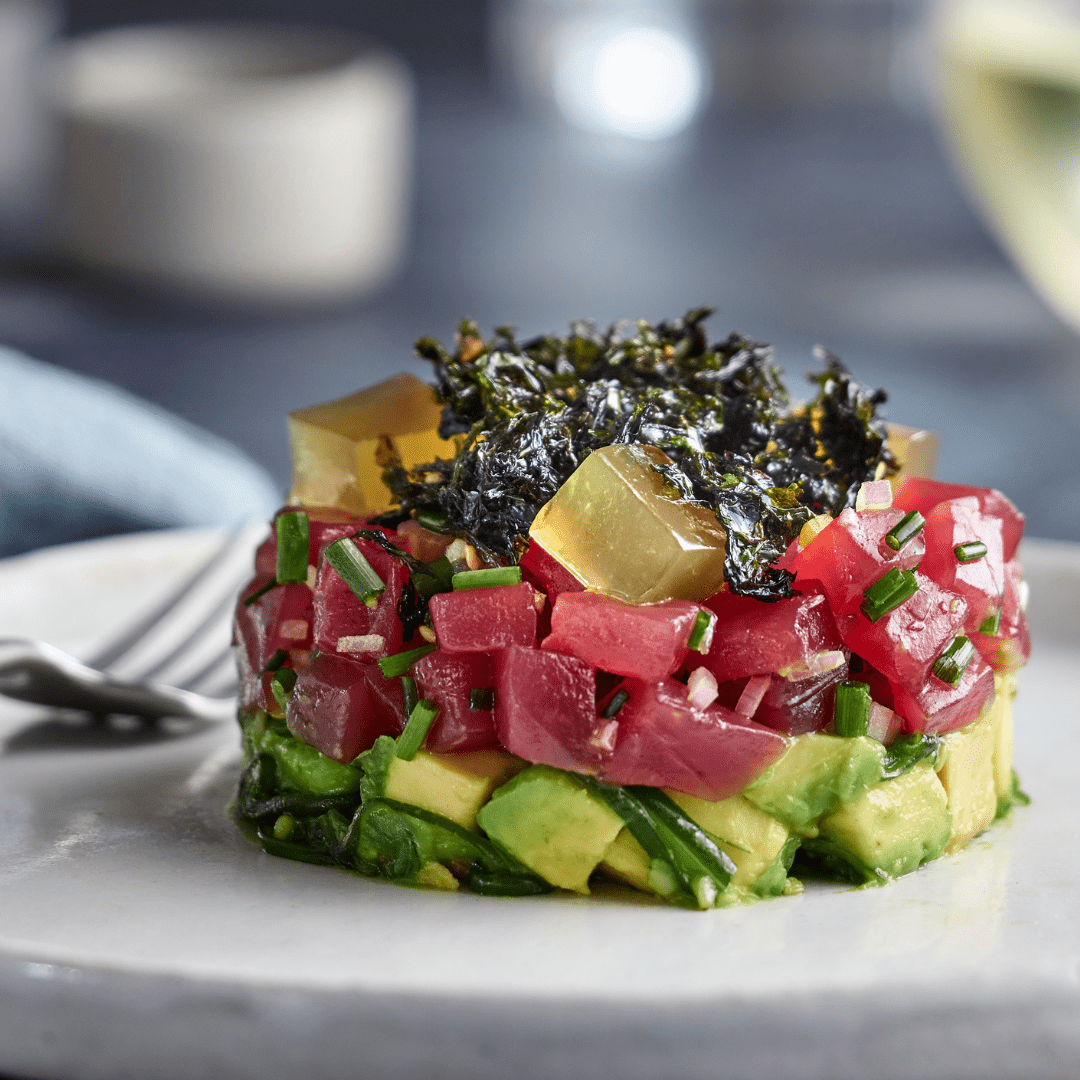 Tuna Tartare Avocado, wakame, umami, crispy nori (gf)
Serves 4
Ingredients:
400g Sashimi Grade Tuna
30ml Birch and Waite Japanese Dressing
50g Wakame
2 Avocado
1 Packet Nori or Flavoured Nori
Ponzu Jelly - Recipe follows, prepare this 1 day in advance
Chef tip: Wakame generally could be found at a good seafood provider, ask for flavoured seaweed if you can't find it.
Method:
Dice tuna, avocado and ponzu jelly to a uniform size, keeping in separate containers.

Mix tuna with the Japanese dressing and add seasoning, this makes the tartare layer.

Mix avocado with wakame, add seasoning and a touch of olive oil if needed.

Chef tip

: try to cut avocado closer to the time of serving to prevent oxidation, a squeeze of lime in the mix will keep it green for longer.

Assemble and serve, using a cookie cutter to help keep it in a uniform shape.
---
Ponzu Jelly
4 portions
Ingredients:
1 Garlic Bulb with skin
½ Knob Ginger with skin
1 Lemongrass Stem
1 Onion
70ml Light Soy
20ml Kecap Manis
100ml Fresh Orange Juice (keep rind)
30ml Fresh Lemon Juice (keep rind)
30ml Fresh Lime Juice (keep rind)
300ml Light Dashi Stock or water
3 Gelatine Sheet
Method:
Chop your aromats, keeping them chunky with peel on. Saute until brown, then deglaze the pan with the light soy and kecap manis, reduce until half, then add light dashi stock.

Add fresh citrus liquids and rinds, cold steep the liquid for at least 1 hour before use (preferably 1 day)

Strain before using.

Chef tip

: do not boil the liquid after adding the citrus rinds, as it will give a bitter flavour profile.

Slightly warm the liquid to melt the gelatine sheets. Once fully melted and mixed in, set in a lined baking tray in the fridge until set and ready to cut.

Chef tip: lining tray with a plastic wrap allows the jelly to easily come off it's container once set.
Tuna Tartare Plating
Place a medium sized ring mould in the middle of the plate, pack the bottom layer with the avocado mix. Then to build the layers, place a generous amount of the seasoned diced tuna. Then to finish off, carefully place pieces of the ponzu jelly on the top layer.

Slowly take the mould off, before serving, finish with the crispy nori flakes as the garnish.
If ring moulds are not available, a simple circle cookie cutter can be used instead.