This perfectly spiced Kangaroo with vibrant beetroot relish celebrates the bold, savoury and earthy flavours of Australia. As a dish that celebrates our indigenous ingredients it's always a hit at our cocktail events. Using the recipe below enjoy trying something new with your family and friends, or get in touch with the HostCo team and ask for it to feature on your next event menu.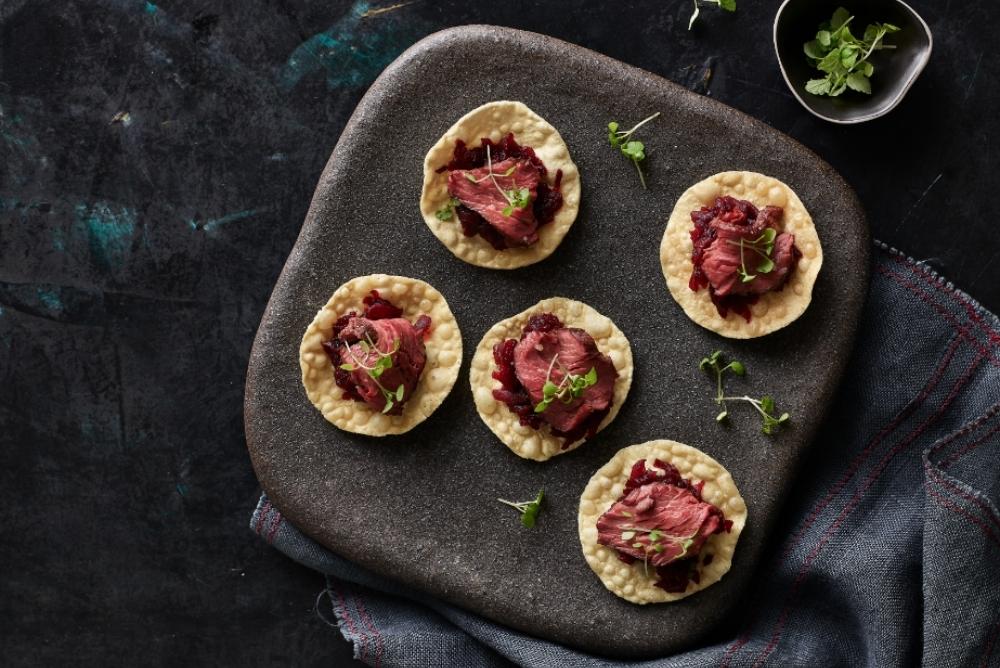 Wattle Seed Spiced Kangaroo with Beetroot Relish
Serves 20
Ingredients
30g Ground Wattle Seed

500g Kangaroo Loin

Beetroot Relish
800g Beetroot

1 bunch Thyme

1 bulb Garlic

1 Tbsp Mustard Seeds

300ml Orange Juice

40ml Beetroot Vinegar or Balsamic Vinegar

Mini Papadums for serving
Chefs Tip: Beetroot Vinegar adds complexity to the relish by adding acidity and reinforcing the beetroot flavour.
Method
Wattle Seed Spiced Kangaroo
Trim Kangaroo loin into small logs, lightly season the surface of the kangaroo, then roll into the ground wattle seed to create a crust.

Seal the Kangaroo on a high heat pan, finish cooking to 'rare' in an oven with an internal temperature of 51c.

Chefs Tip:

touch your thumb and index finger together, press on the bottom part of the thumb. This will be the same resistance the meat should have.

Rest meat before serving, at least half the time it took to cook the meat into temperature. E.g. rest for 5mins, if it took 10mins to cook in the oven.

Chefs Tip:

Dry kangaroo is the worst! Carve meat last minute, dress the presentation side with oil and seasoning to retain moisture of the meat.
Beetroot Relish
Pre-heat oven at 190c

Place beetroots in a tray with ½ bunch of thyme and a whole bulb of garlic, completely wrap with foil. Cook until beetroots are soft (pierce with a knife, and it should go straight through).

Chefs Tip:

tightly seal the foil bag that no air can escape. To ensure the steam will cook the beetroots

faster, while the thyme and garlic permeate through the beetroots.

Peel and grate the beetroots.

Reduce orange juice and beetroot vinegar to a thick saucy consistency. Turn off the heat and add the beetroots. Lastly add the ½ bunch chopped thyme.

Chefs Tip:

make sure to add the chopped thyme only when the heat is off to get the maximum flavouring for the relish.

Serve on a fresh Pappadum