Summer is coming! Right now is the perfect time to start planning a get together with this vibrant recipe from the HostCo menu. We serve this dish as a canape at our events but get creative and try it out in a tortilla as a fresh taco filling.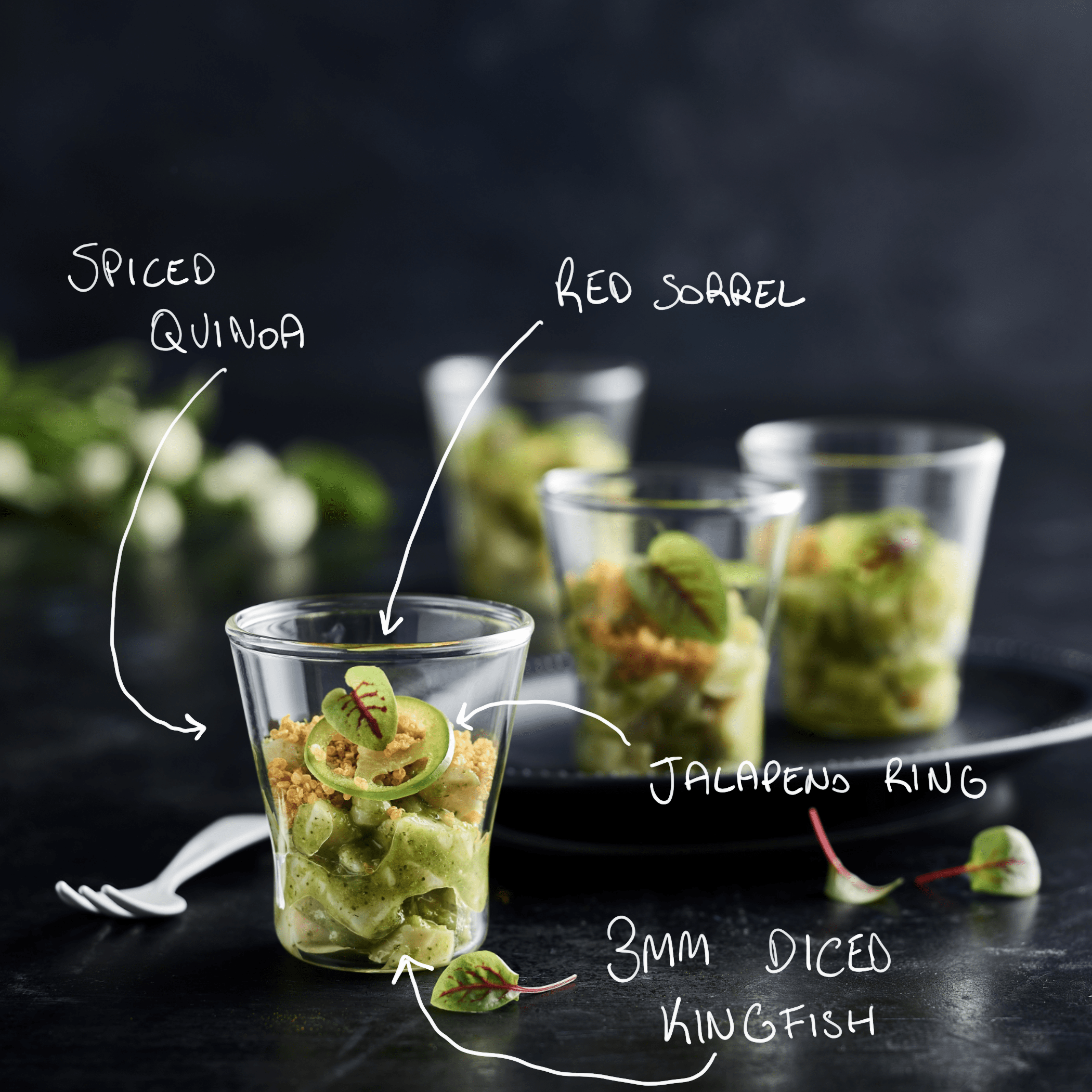 Jalapeño lime kingfish ceviche, spiced quinoa
Serves 20 (canape size)
Ingredients
1kg Kingfish
Marinade
2 Bunches Coriander
200ml Lime Juice
1 Spanish Onion, chopped
2 Garlic Cloves
120g Brown Sugar
1 Jalapeno Chilli
50ml Fish Sauce or Dashi Extract
150ml Vegetable Oil or Pomace Oil
Ice Cubes
Spiced Quinoa
100g Quinoa
1tsp Garlic Powder
1tsp Chilli Powder
Chef's Tip: Dashi extract intensifies the umami and seafood flavouring into the dish, which works well with seafood proteins. Pomace Oil has a more delicate flavour than normal vegetable oil, which makes it the preferred oil used for marinades in professional kitchens.
Instructions
Marinade
Place all ingredients in a food processor, except for the oil and ice cubes. Then blend into a puree consistency.

Chef tip:

Cut everything into manageable size to prevent ingredients from being over bruised during the blend. Bruised ingredients lead to dull flavouring.

Add a couple of ice cubes into the mixer to loosen the mix.

Chef tip:

Adding ice cubes rather than water dramatically cools down the temperature in the mixer which keeps herbs vibrant.

Once puree is reached, set the processor in a slower setting and steadily incorporate the oil.
Spiced Quinoa
Heat up one cup of vegetable oil in a pot up to 110c, pour in quinoa to lightly fry until they puff up.

Add in the seasoning with a touch of salt to taste.

Chef tip:

best to add all the seasoning while the puffs are warm to make sure the flavours are completely enveloped with each morsel.
Kingfish
Dice the kingfish to desired size, we recommend 3mm dice (or roughly the size of a jelly bean).

Completely submerge into the marinade for 2 hours before serving to ensure the acids cook the fish.
Plating
Depending on what vessel you have available, the key is to keep the dish within two small bites or one. A shot glass would work perfectly! Spoon the marinated kingfish into the glasses.

Only top of the ceviche with the spiced quinoa before serving to preserve its crispiness. Visual tip put enough quinoa to cover the bottom layer to spark curiosity with guests, especially if your glass is opaque! Top with fresh herbs such as red sorrel or coriander that you have handy.

We use freshly made crispy quinoa, but feel free to replace it with another crispy component such as spiced puffed rice which heightens the dish by giving it depth of texture.